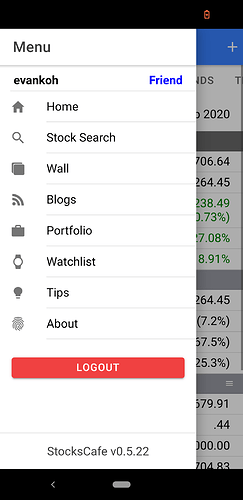 How to see app version?
It is shown in the menu at the bottom of the page. StocksCafe v0.5.22 in the above image and it means that the version is 0.5.22
(To pull out the menu, simply click on the 3 lines at the top left corner, or do a right swipe from the left side of the screen)
How to update to the latest version?
Simply restart the app. It will be automatically updated.
What is the current latest version?
As of 27 August 2022 the latest version is 1.2.6
(I will try my best to regularly update this to reflect the latest version.)