Hi Evan,
I did not receive the daily mkt update sent every evening yesterday. Was there some technical hitch?
Yes, sorry. I discovered it this morning

Did not receive for 19/11 night too.
Okay. Just sent it out for you.
Sorry, seems like an error disrupted email to be sent to you in particular last night.
Hi Evan, i still dont get the daily updates
Hi,
You need to set the Email Frequency to either "Daily" or "Weekly". The last I checked, it seems like you have it on "Never".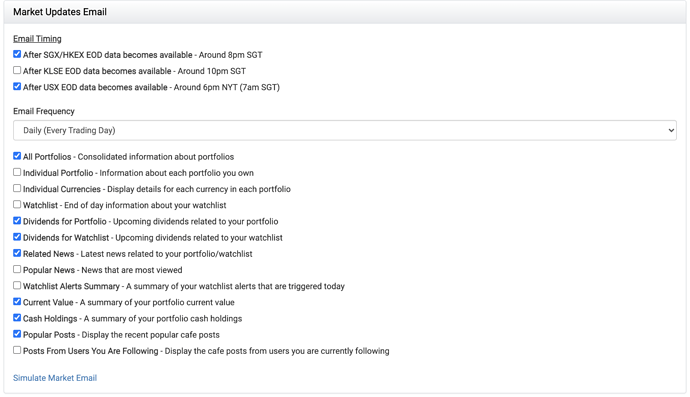 Cheers,
Evan
Coming back on this.
The bug seems to come about because the cache in my desktop browser saves the settings and when I go to the stockcafe URL via the browser it will autocomplete and look straight into / revert back to the unsaved settings.
You are saying that you still do not receive emails from StocksCafe?
I am receiving them but previously when i switch between browsers and laptops sometimes it revert backs to "NEVER" settings even though i made sure i saved the profile after I changed to "Daily"
Still monitoring, back 2 weeks has been ok …
There is no caching on my side for this. So, whenever you click the update button on that page, just check the settings more carefully and I believe we are good.